Quick2Cart Add-on
Turn JReviews into an E-commerce powerhouse! Sell physical and digital goods and even start your own marketplace.
The Quick2Cart Add-on integrates the e-commerce platform offered by Techjoomla's Quick2Cart component with JReviews' powerful listings functionality. This means you get to keep all the great features found in JReviews and seamlessly add a shopping cart layer on top of it. Not only that, but leveraging Quick2Cart's multi-vendor functionality and using JReviews front-end listing submissions by site members, you can start your own marketplace where each member has one or more stores and the listings they submit are the products in those stores. Start an eBook or music site where members can sell their own digital goods!
Buy Quick2Cart from Techjoomla
E-commerce features are powered by Quick2Cart from Techjoomla, which is required in addition to the add-on. Support requests for Quick2Cart should be directed to Techjoomla.
With Quick2Cart, Techjoomla has created a versatile e-commerce platform with important features like stock management, digital downloads, coupons, a multi-vendor system and comprehensive shipping and taxation functionality. Quick2Cart also offers support for a large number of payment gateways. Coupled with the outstanding flexibility and powerful features offered by JReviews, you now have an impressive e-commerce system to work with.
Buy button & quick access to 'Edit Product ' form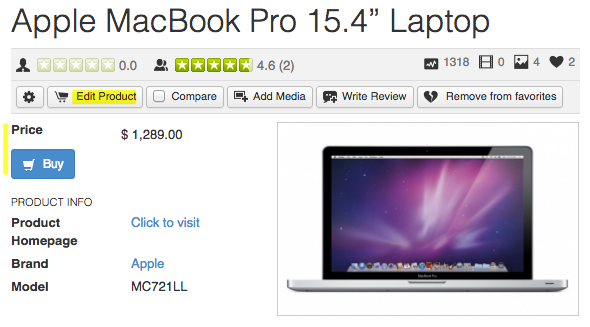 Admins and listing owners, if multi-vendor is enabled, will see an 'Edit Product' link in listing detail and list pages which can be used to manage the e-commerce side of each listing. You can specify available stock, pricing, manage product attributes that impact pricing such as size and color; and manage the digital download inventory for each product.
View demo
---
Selling digital goods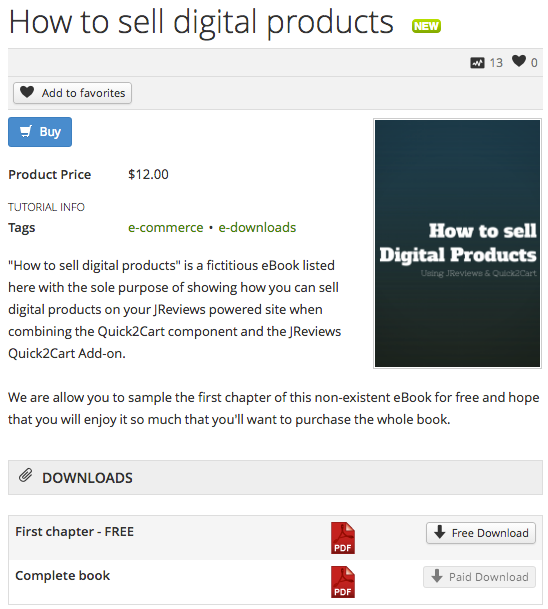 When used to sell digital goods the add-on displays a nicely formatted table of available downloads, both free and paid. Free downloads can be used to offer a free eBook chapter or a song from a music album; and the site visitor needs to pay for the product before they gain access to the paid downloads.
View demo
---
Add to cart without page reloads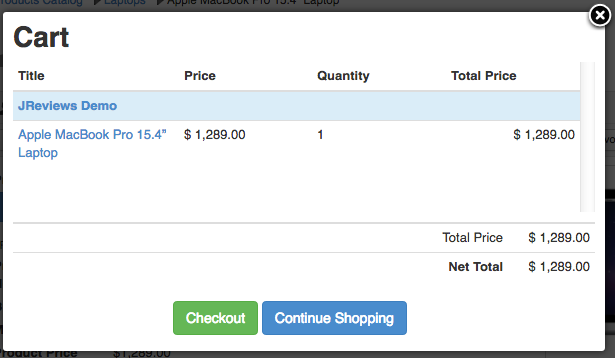 By loading a modal window using ajax, Quick2Cart provides a smooth shopping experience without page reloads. Users can add products to the shopping cart and continue shopping or go straight to the checkout page.
---
Streamlined checkout process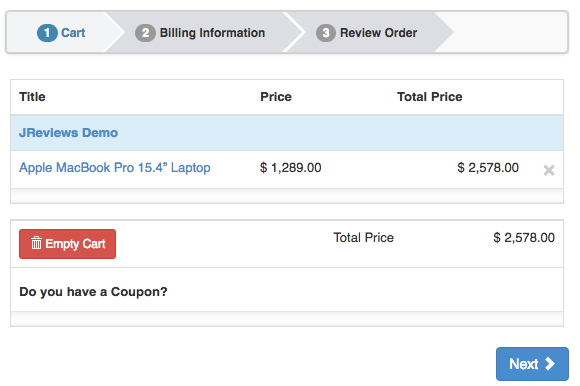 The checkout process is finalized in a dedicated page where users are also able to sign-up to the site to create an account or complete their orders as guests.