Today I am very excited to write about testberichte.reviews, a profitable review community using Joomla. The site targets the German market for product testing and reviews and was created by Daniel Schmitz. The site uses a number of third party Joomla components including JReviews!

testberichte.reviews is review community for product testing that helps connect businesses with avid product testers and reviewers. The site allows participating businesses to launch product campaigns in order to promote their products and services and generate customer reviews inside and outside the community. The consumers, in turn, receive products and services for free or at a discount. This creates a win-win situation which is part of the reason why the site has been so successful to date.
Daniel launched the site in late 2013 when he identified the need for companies to have consumers blog, video blog, and reviews about their products and services as part of their marketing efforts. He realized that by offering free or discounted products would motivate the players. Initially, Daniel dedicated a lot of his time posting reviews on YouTube and on Amazon.de, becoming one of the top reviewers in Germany. This effort led to the idea of connecting companies and consumers with the purpose of allowing companies to get more product visibility and reviews.
By the summer of 2015, the site had transformed into a marketplace, giving it a boost in traffic and activity and becoming very well positioned for continued growth due to the additional performance, technical and layout improvements. At first, the site was contacting businesses directly to participate, but in order to accelerate growth, the site moved to advertising through AdWords by targeting businesses looking to increase their exposure through community participation and user generated content and reviews. The site started acting as a facilitator and began charging businesses a fee to participate in the review community. Today testberichte.reviews has two employees responsible for the server administration and customer support.
What is the business model for testberichte's review community?
The site's main revenue streams are its subscription model for businesses and advertising. Companies sign-up for a site membership that allows it to post product and service campaigns either for free or at a lower price. These opportunities have a limited number of spots and community members sign up to participate. Companies then make a decision on who qualifies based on a series of criteria such like the profile information submitted by users, past review history on different platforms, and their community participation history. After consumers receive their products they write reviews both at testberichte.reviews and Amazon.de complying with the review guidelines set forth by the site, which include acknowledging that a product or service was received for free or at a discount. Consumers also participate in discussions in the site forum around the products and services they are testing.
At the time of writing this blog post testberichte's review community has written over 100,000 user reviews and on average gets 500 reviews per day. It also has around 2,500-3,000 unique visitors per day.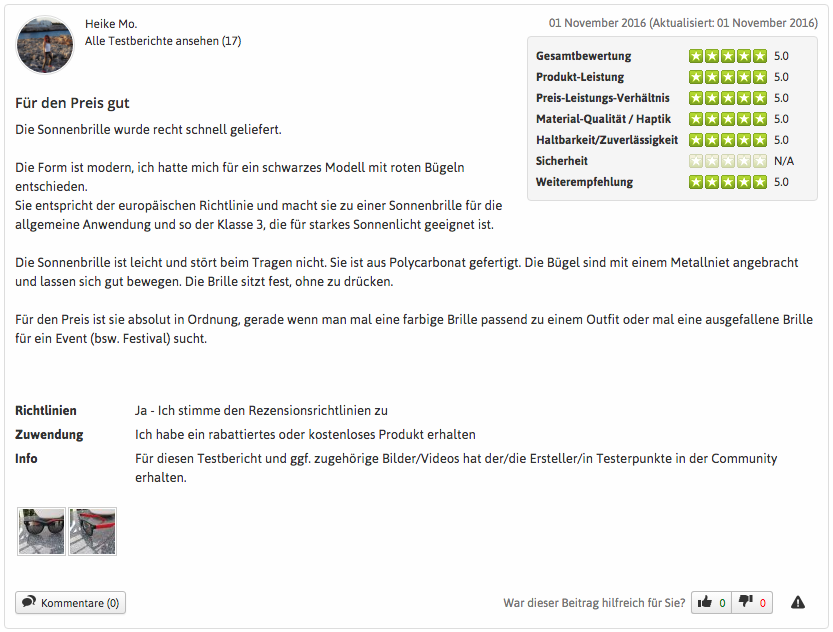 What solutions were used to build the site?
How was this profitable review community built from a technical standpoint? The site uses Joomla as well as a number of third party Joomla components like JReviews, JEvents with the RSVP Pro add-on, EasyDiscuss, JomSocial and AlphaUserPoints. The site also has many customizations around these products for automating tasks and creating a seamless integration that renders the overall experience unique.
The site is also highly optimized for SEO and is now hosted on Amazon's AWS to be able to provide the performance needed with growing traffic and data.
Advice for aspiring entrepreneurs
Finally, Daniel has some very good advice for those aspiring entrepreneurs looking to create a successful reviews site using JReviews.
Conceptualize your idea and write it down.
Think about what will be the listings on your site (products, places, people)?
Who will be creating those listings?
Who will be writing the reviews on the site? Will it be end users or companies as well?
What sort of rewards can you provide for reviewers and how can these be used on the site to incentivize more activity?
Can anyone sell or buy something on the site? This is how you'll be able to monetize the site other than through advertising revenue. You can either sell something yourself or charge others for selling or advertising their products or services.
Time to go find your next idea and make it real!
If you have a similar success story using JReviews for Joomla or WordPress and you would like to share it please get in touch with us.