Accelerated Mobile Pages (AMP) Add-on
Lightning fast and beautiful content-rich pages in mobile search results
AMP is a Google-backed project that enables pages on your site to load almost instantly on mobile devices. Google already differentiates between AMP and non-AMP pages in mobile search results and even features some AMP-enabled pages in a carousel at the top of the search results.
According to entrepreneur.com the top 5 reasons why you should be using AMP on your website include better mobile SEO, lower bounce rate, higher ad monetization, support for analytics, and last, but not least, Google loves AMP and really wants you to start using it!
Add-on Features
The AMP Add-on for JReviews includes a specially designed listing detail page theme and styles that are automatically used in AMP requests. In addition to displaying standard listing information like author, date, summary, description and custom fields, the AMP theme can also show the following information based on your JReviews configuration:
Social sharing buttons
A photo slider
A video slider with video playback
Related listing widgets
A static google map
User and editor reviews
Several Joomla module and WordPress widget positions that allow you to display ads as well as any other AMP-supported content you want to include on the page
Optimized Open Graph, Twitter Card and Schema.org markup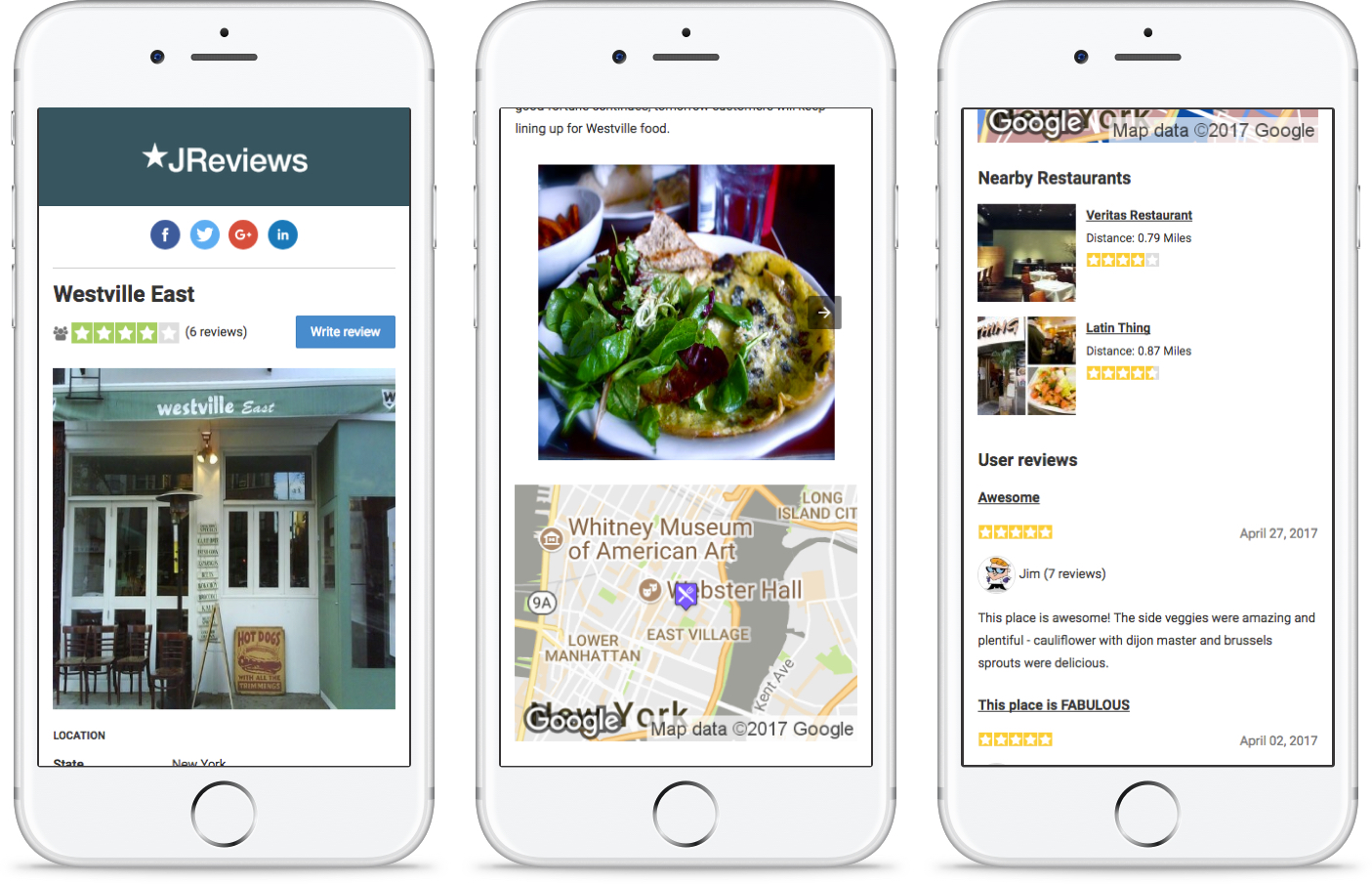 Examples of JReviews AMP pages
Using the demo site links below you can view several live examples of how a JReviews-AMPed page looks like. Since the pages are optimized for mobile devices, it's better if you try to open them on your phone. Keep in mind that these are not being loaded from the Google AMP cache. Once your AMP pages are indexed and cached by Google the loading time will be near instant!
Add-on dependencies
When developing the AMP Add-on for JReviews we decided to use existing solutions for AMP so you can more easily implement a sitewide AMP experience. Because these solutions produce simple versions of JReviews listing detail pages, the goal of the Add-on is to display these pages in their full glory and implement AMP-native features for photos, videos and social sharing based on your JReviews configuration settings. In order to use the Add-on you also need one of the solutions mentioned below:
In Joomla the Add-on works with either of these two commercial plugins: jAmp by J!Extensions Store and the full version of wbAMP by Weeblr. These are both full of features that let you customize template header, footer, menus and more.
In WordPress the Add-on works with the free AMP plugin developed by Automatic, the company behind WordPress.