How to increase user engagement and retention
Alejandro Schmeichler
It is a well known and researched fact that useful, timely and personalized notifications will help improve retention rates. Once you acquire a user, the best way to keep them engaged and coming back is through notifications. According to a mobile push notifications analysis, 95% of new users churn within the first 90 days if they don't receive any notifications.
95% of new users churn within the first 90 days if they don't receive any notifications.
Our latest offering, the EngageUsers Add-on for JReviews, is a complete notifications platform for improving the user engagement and retention on your site.
Useful, timely and personalized notifications
With EngageUsers, site members will receive notifications relevant to their interests, either immediately after an activity is posted, or as an email digest. The Add-on can send immediate notifications via email and web push based on user preference and the type of notification.
Types of notifications
Currently, there are 3 types of notifications available.
Related notifications
Follow notifications
Search alerts
There's also a 4th notification channel for site admins using Slack. This is useful if you want to monitor site activity through alerts, without filling up your inbox.
Related Notifications
These are triggered when there's activity in an area of the site where the user has previously interacted. For example, if a user created a listing, he will receive notifications for any activity that happens on that listing, like reviews, review comments, and inquiries. If a user reviews a listing, he will receive notifications for other activity for that listing.
Follow Notifications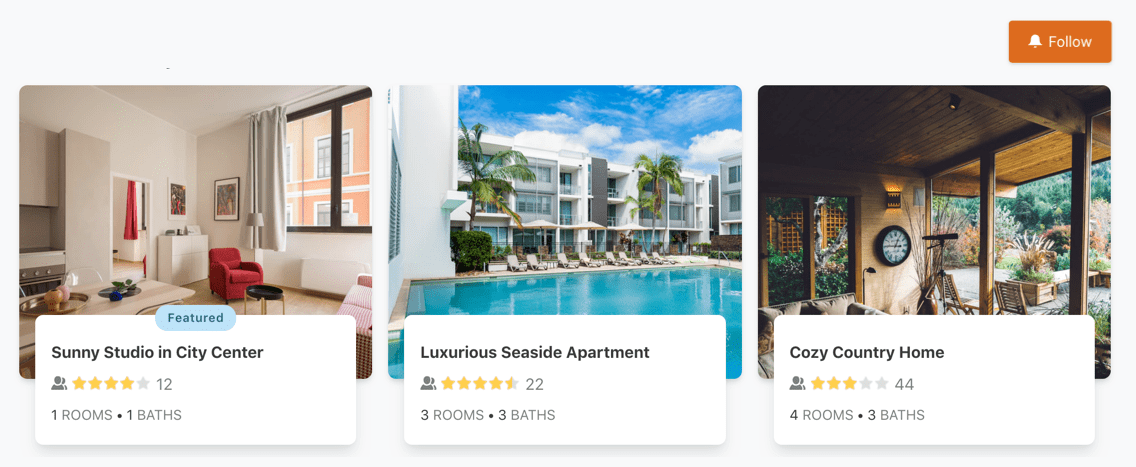 Site members can easily follow individual listings, or entire categories of listings to receive notifications when there's new activity happening in those areas. Not all activities will trigger notifications because the goal is to send useful notifications. So if a user likes a review or favorites a listing, this will not trigger a notification via email or web push to users that follow the listing.
Search Alerts
One very powerful feature of EngageUsers is the ability for site members to create search alerts to receive notifications when new listings matching their search criteria are published on the site. For example, if a user performs a search for a specific job in within 10 miles of a city and creates a search alert, he will receive a daily or weekly digest of any new job postings matching his search criteria. This feature can be used for any type of site when new content is added frequently and users don't have time to come back frequently or forget to do it.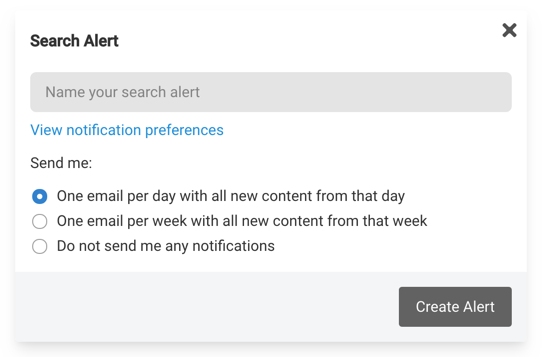 Notification channels
The notifications preferences dashboard, allows site members to easily control and manage the types of notifications they want to receive, the frequency and the notification channels.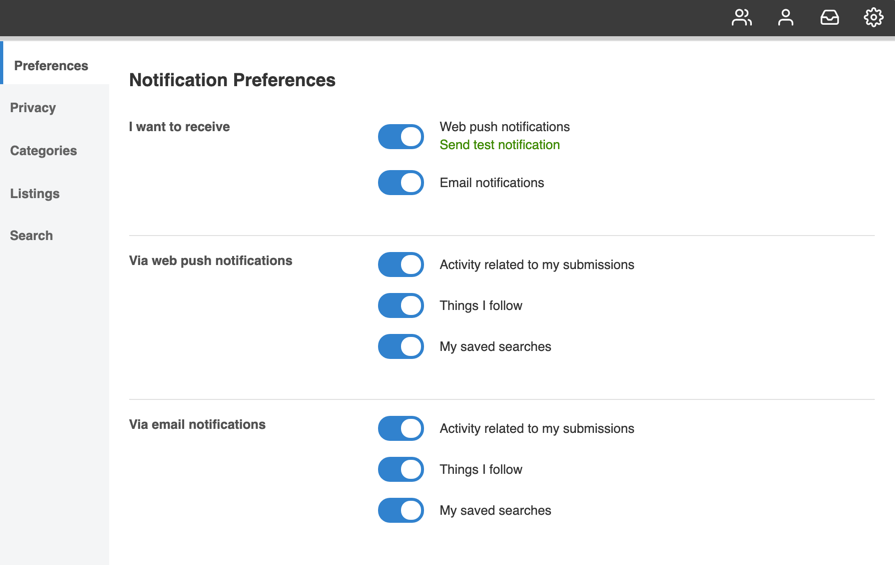 There are currently 3 notification channels.
Email
Web push via OneSignal
Messages Feed
Email Notifications
Users can receive notifications via e-mail, either immediately after an activity takes place, or in daily and weekly digests. Search alert notifications can only be sent via email in daily and weekly digests.
Web Push Notifications
Users will also have the option to receive instant notifications after an activity takes place and this is done through an integration with OneSignal.
Notification Feed
A 3rd method for notifications is the Add-on's messages feed which can be accessed by the user on the site. It gives users a quick way to get up to date with all their notifications right on the site.
Activity stream with a personal touch
Activity streams or activity feeds are now common on many websites and apps. They are a fun way to present information and they are perfect for presenting dynamic and frequently updated information. When someone wants to know what's the latest activity on the site, they can easily do that in a single place. Take a look at the activity stream on the demo site.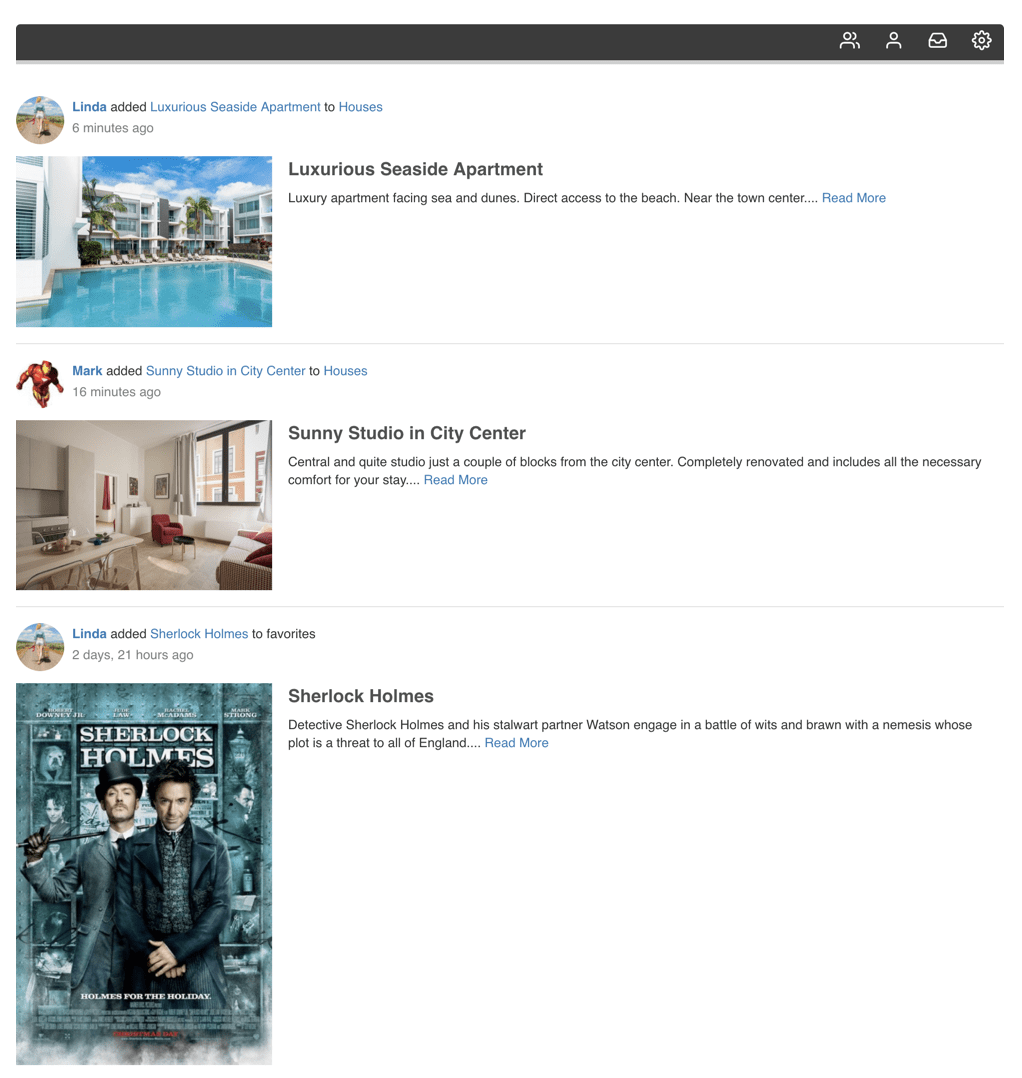 EngageUsers provides a general activity stream for the entire site, but it also provides a personalized feed for each user, based on their follow interests and related activities. The feed is fast, has infinite loading so users can easily browse past activity by scrolling down, and it looks beautiful in both desktop and mobile. The activity feeds are a great way for guests and site members alike to stay updated on topics of interest.
EngageUsers is a notifications powerhouse that will keep your site members engaged and always coming back! The Add-on is included in the Professional and Developer plans and can be purchased separately for the Standard plan.