iReview Joomla Template
Light and fast responsive Joomla Template that is fully compatible with JReviews for Joomla
The iReview template is built using the latest css techniques. It features a clean, minimalist design and is a perfect template for review sites built with JReviews (i. e. City Guide, Products Catalog, Movie Database, ClassiKeds, Events, ...).
iReview 3 comes with powerful layout options and an improved responsive grid system which adapts to various resolutions of different devices (desktops, tablets, smartphones). There are more than 40 module positions and every position can be split into multiple columns to be able to display modules side by side. Two sidebars are available, each can be placed left or right of the main content and they can use either grid based dimensions or any custom fixed dimension that you specify via settings.
---
---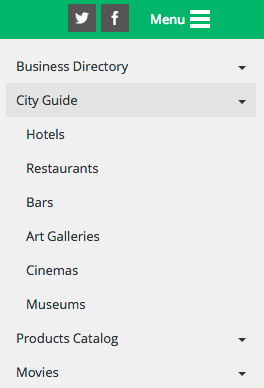 For better usability on mobile devices, iReview 3 comes with a new off-canvas slideout menu. The menu is activated by tapping the menu icon in the new topbar. The mobile menu supports unlimited levels of menu items, just like regular menus. To achieve better performance on smartphones, iReview 3 allows you to prevent specific modules from loading on smartphones via the Mobile Detect feature.
iReview 3 replaces Joomla's Bootstrap 2 with the much better Bootstrap 3. It uses Bootstrap's mobile first responsive grid system and also makes it easier to use some of the Bootstrap components like tabs and accordions. All other Bootstrap 3 components can be used when customizing both the template and themes of 3rd party Joomla extensions.
The template comes with 32 color styles and makes it easier to use multiple color styles at once for different page wrappers and modules, with an option to override specific color styles using color pickers. It allows you to assign modules to custom module positions as menu dropdown and for every dropdown menu you can choose if it will be activated by mouseover or a click. iReview 3 is also very easy to customize and even allows you to add custom css styles directly in the template settings and include custom scripts in either the head or body of the template. There are many additional improvements like more control over the offline page, preselected quality fonts from Google CDN, scroll to top button and more options for social media.

Main Features
Joomla 3.x compatible
Replaces Joomla's Bootstrap 2 with much better Bootstrap 3
Very light and very fast
Clean, minimalist design
Uses HTML5 and CSS3
Responsive layout
Animate.css support.
Two sidebars, both can have any custom width
Easy to customize, add custom styles and scripts via template parameters
Multilevel menu navigation, both horizontal and vertical
Slideout menu for mobile devices
Mobile detection to prevent specific modules from loading on smartphones
Google Web Fonts (preselected best fonts from Google's font service)
Scroll to top option
32 color styles available in different variations
41 module positions which can be split into multiple columns
---