Google Analytics alternatives for Joomla and WordPress websites
Alejandro Schmeichler
Many website owners today are moving away from using Google Analytics to monitor their site traffic. One important reason is user privacy, but i's not the only one. If your site runs on Joomla or WordPress and you are using Google Analytics, it's time to evaluate your options, especially since Google is dropping support for Google Universal Analytics later this year.
Reasons to switch away from Google Analytics
Google Universal Analytics (UA), the one you are probably using now, is being phased out. Your properties will stop processing data mid-2023 and will lose access entirely by the end of the year.
Google Analytics v4, the successor to Google Universal Analytics is seriously awful. You can't import your UA data so you need to start over, and there's so much information overload, charts and widgets all over the dashboard, that it's difficult to grasp what's going on. To top it off, their API is difficult to integrate and right now it only gives you access to data that's at least 24 hours old.
You are sharing your site's traffic and users' personal data with a 3rd party service provider in exchange for a "free" product while everyone else is giving more importance to privacy-focused products and services.
Joomla and WordPress Compatible Analytics Alternatives
There are several alternatives to Google Analytics that are both privacy-focused and not awful, and the one we like and have chosen to use for all our properties is Fathom Analytics.
Fathom Analytics developed its own WordPress plugin that lets you easily add their tracking script to your website. If your site uses Joomla, most likely your template has a setting that allows you to paste the script tag provided by Fathom.
We like Fathom Analytics so much that we decided to build a product around it. The JReviews Dashboard Addon gives listing owners access to their listings' historical traffic data and custom events information.
Why Fathom Analytics
These are the main reasons why you should consider switching from Google Analytics to Fathom Analytics:
It's privacy focused, so it doesn't collect or store personal data, which shows that you also care about your customers' privacy.
It has a beautiful dashboard that's not only easy to use, but has all the features you need, with more on the way.
Provides a more complete picture of your site traffic because it can bypass most ad-blockers without invading user privacy.
Powerful API that's a gift to developers to integrate into their products, and to the users of those products because it's so easy to setup. Just generate an API key and you are ready to go.
Google Universal Analytics import is in development so you can migrate your existing properties and keep your traffic data even when switching to a different analytics provider.
It's really hard to change your mindset and start paying for something that you've always expected to be "free". However, when you consider that "free" was never really free to begin with, and you experience what the alternative to that looks and feels like, then it all make sense.
The Fathom Analytics service has a starting price of $14/month (or $140/year) for up to 100,000 page views. That's a small price to pay when you are running a business for something that delivers a great service and experience, and comes with first-class support so you can actually reach someone to ask for help when you need it.
Fathom has a very dedicated team, that is trusted by thousands of businesses, including Fortune 100s, banks, and governments around the world. Some of the companies using their service include: IBM, BOSCH, McLaren, and Github.
Fathom App Case Study: JReviews Dashboard Addon
JReviews has an indicator of views for individual listings. The functionality comes out of the box in Joomla, but it doesn't work if you have caching enabled because the code that increments the counter runs on the server which is never reached when the page is loaded from the cache. We built something similar for the JReviews WordPress version, but at the end of the day, this is just a basic counter, with no historical information.
We set out to build something that would provide historical traffic information to listing owners. This is of course a big selling point for business directories and sites with paid listings. We briefly considered building a solution based on Google Analytics, but quickly discarded it because:
They are dropping support for Google Universal Analytics
They don't have a migration path to Google Analytics v4
Setting up and communicating with their API is too complex
Since we had already switched from Google Analytics to Fathom Analytics, this was the obvious choice considering that:
Many websites are already in the process of switching to a different analytics provider, or will need to switch, once Google Universal Analytics stops working
We feel more comfortable recommending and building products around a service we use ourselves
The Fathom Analytics API is built with developers in mind, making it very easy to get started
We were able to build a working prototype in no time to test the idea, and released the first version of the product shortly after. Below you can see what the Dashboard panel looks like for listing owners: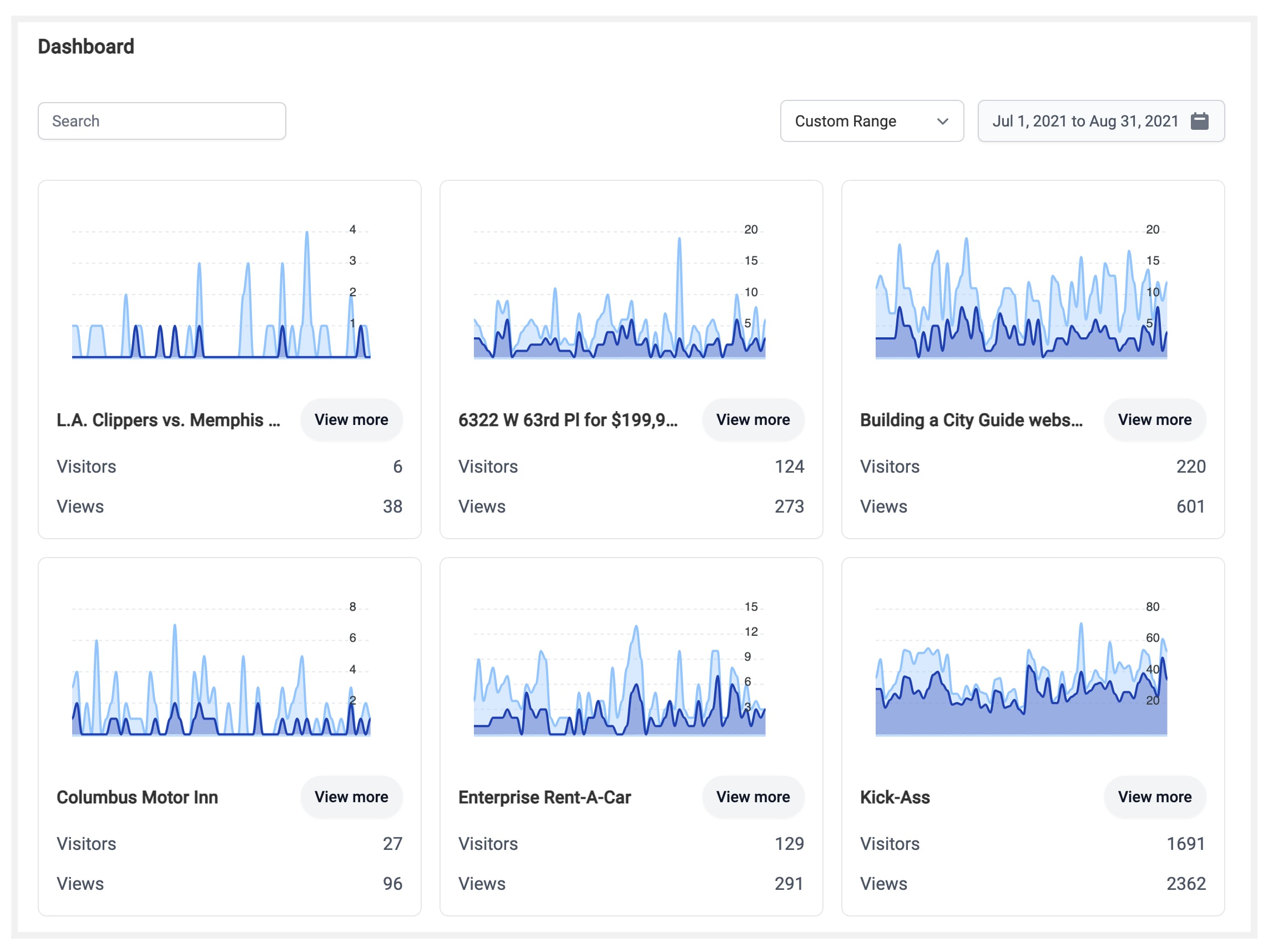 We also recently released an update that added support for displaying historical custom event completions.
We eventually managed to figure out the integration with Google Analytics v4, so we went ahead and built it into the product. Now you can choose between Fathom Analytics and Google Analytics v4. Adding this second integration was not only a hassle for us, but it's also a pain for users to setup given all the steps needed to gain access to the Google Analytics v4 property API. Since we know our customers prefer choice we added this option, but we wouldn't use it ourselves.
We hope you'll be as excited about us to learn more about Fathom Analytics if you had not heard of them before. You can get a $10 discount on the first invoice when you use any of the links above to sign up.