If you are planning to use, or are already using, a Community or Social Networking solution for your site, then I have some great info for you in this post. We've worked very hard on integrations with some of the most popular solutions out there to enable you to create a better user experience across your site and I am going to tell you all about it now so you can make the most from these integrations.
In Joomla JReviews integrates with JomSocial, EasySocial, Community Builder and Kunena Forum. In WordPress JReviews integrates with BuddyPress. For both platforms there's also our very own UserProfiles Add-on.
I have prepared a comparison table to show you the different integration possibilities that are available when using JReviews with any of the above mentioned solutions.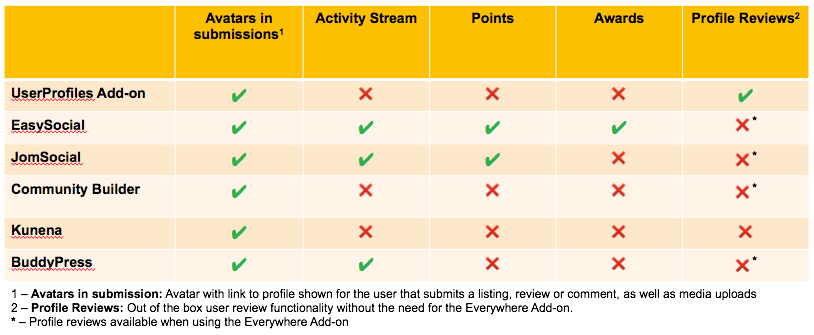 UPDATE! As of Feb. 13, 2020 An integration with PeepSo is now also available through the free PeepSo Add-on. At launch the integration includes posting JReviews activities to the PeepSo stream and displaying profile avatars with links to profiles in the JReviews pages.
UPDATE! As of Feb. 25, 2016 the Everywhere Add-on integration with EasySocial also supports reviewing EasySocial Groups and Events with a couple of Apps included with JReviews.
The only solution that provides out-of-the-box Profile Reviews functionality is the UserProfiles Add-on, which uses native JReviews listings for the user's public profile. This means that the profile itself also supports every single feature provided by JReviews listings and that's quite a long list! It is possible to add profile reviews to other solutions if you purchase the Everywhere Add-on and at this time only Community Builder, Easysocial, and JomSocial are supported.
The UserProfiles Add-on is not a full fledged Community or Social Networking solution and it is also NOT meant to be used alongside any of the other solutions. Instead, UserProfiles should be use on its own if you only want to implement user profiles without the additional overhead added by all these other solutions. UserProfiles also makes the profiles incredibly powerful with built-in user reviews capability and support for every listing feature and Add-on that JReviews has to offer. Read more about the UserProfiles Add-on.
So if you are using any of the above solutions, go ahead and check the Community tab in the Configuration so you can choose the solution you are using to enable the integration and start adjusting some of the activity stream settings. For points and award integrations use the JomSocial, EasySocial and AlphaUserPoint tools to scan for existing rules.
If you are looking to add external social network login functionality to your site, with support for many different services, then I recommend that you take a look at SourceCoast's JFBConnect. This product has a long development trajectory and is also compatible with JReviews.
JReviews has has some built-in integration features with Facebook and Twitter and I will go into detail about those in another post in this series #6 - Taking an In-deph Look at the JReviews Integration with Facebook & Twitter.
Read the next post #5 Understanding and Using the JReviews SEO Features